IAPP Certification Programs
We live in an information economy. And as data becomes today's most valuable currency, the risk associated with it continues to skyrocket.
Professionals who understand these risks—and the global information management practices needed to safeguard data—are in high demand.
That's where IAPP certification comes in.
Only the IAPP offers information privacy certification programs specifically designed for professionals who manage, handle and access data, and recognized and respected by employers the world over.
The Value of Accreditation
INTERNATIONAL RECOGNITION IN THE PRIVACY FIELD AND BEYOND
The IAPP's CIPM, CIPP/E, CIPP/US and CIPT credentials are accredited by the American National Standards Institute (ANSI) under the International Organization for Standardization (ISO) standard 17024: 2012.
ANSI is an internationally respected accrediting body that assesses and accredits certification programs that meet rigorous standards. Their accreditations conform to the global standard set forth by the International Accreditation Forum (IAF), giving them an international stamp of approval, and acceptance by governing bodies across the globe.
The IAPP offers the world's first and only accredited global certification in information privacy, recognized for meeting the ANSI gold standard that allows you to certify once and be accepted everywhere.
WHY IS ACCREDITATION SO IMPORTANT?
Achieving accreditation is a tremendous acknowledgement of the quality and integrity of the IAPP's certification programs:
Demonstrates that IAPP credentials meet a global, industry-recognized benchmark
Ensures IAPP credentials are consistent, comparable and reliable worldwide, giving professionals the opportunity to have skills that translate across borders
Protects the integrity and ensures the validity of the IAPP certification program
Promotes to employers, colleagues, clients and vendors that IAPP-certified professionals have the necessary knowledge, skills and abilities to perform their work anywhere in the world.
ABOUT ANSI ACCREDITATION
By adhering to a rigorous internationally recognized accreditation process, ANSI ensures that its accreditation work conforms to the highest accreditation standard and represents the best practices in the field. Additionally, being recognized by the International Accreditation Forum (IAF) provides further confidence that ANSI accreditation conforms to global requirements for accreditation bodies (ISO/IEC 17011) and has successfully demonstrated its competence through a rigorous peer-evaluation process. As a result, credentials accredited by ANSI will find themselves accepted worldwide. ANSI's personnel certification accreditation program was the first such program in the United States to fulfill the requirements of ISO/IEC 17011, Conformity assessment – General requirements for accreditation bodies accrediting conformity assessment bodies, which represents the global benchmark for accreditation body practice. ANSI is currently the only personnel certification accreditation body in the United States to meet nationally accepted practices for accreditation bodies. Accordingly, ANSI's accreditation program is recognized as a leader in personnel credentialing.
Practicing Privacy – Understanding Laws and Concepts
Show the world you know data privacy laws and regulations and how to apply them. Demonstrate your mastery of jurisdictional laws, regulations and enforcement models, plus legal requirements for handling and transferring data.
Certified Information Privacy Manager
Operationalizing Privacy – Turning Policies into Programs
Make data privacy regulations work for your organization by understanding how to implement them in day-to-day operations. Learn to create a company vision, structure a data protection team, develop and implement system frameworks, communicate to stakeholders, measure performance and more.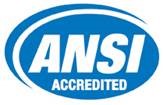 Your CIPT certification validates your deep understanding of privacy in technology and enables you to apply what you have learned immediately to your daily workflow as a technology and data professional. Achieving certification validates your dual literacy in privacy and technology that translates around the globe. What's more, IAPP certifications, including the CIPT, are widely hailed as the gold standard in privacy certification because they are also the only certifications in the industry accredited under ANSI/ISO specifications and recognized under standards set by the International Accreditation Forum.